Unlimited paintball. Unlimited time. Unlimited fun!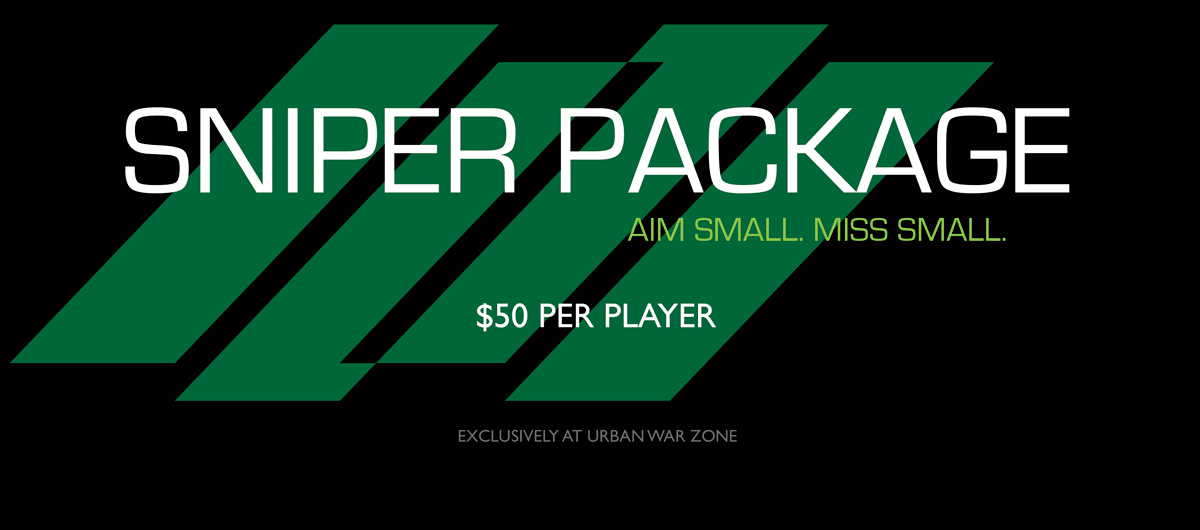 Unlimited Low Impact Paintballs
The key to making paintball low impact is making sure you shoot a high-quality paint. The Urban War Zone Sniper Package gives you unlimited access to our very best low impact paintballs. Throughout the year we carefully test our paint to make sure that we are delivering highly accurate, low impact paintballs with an extremely bright fill. We've even gone to the trouble of changing vendors to get you top notch paintballs with the lowest impact possible. With the Sniper Package, those paintballs are provided to you free of charge.
For more information about low impact paintball, click here.
Here at Urban War Zone Paintball we like to do things a little differently. We've always offered unlimited private play to our customers because we don't think you ought to be rushed. With the Sniper Package we're also offering unlimited paintball refills. Put the two together for and you get a recipe for major fun!
Unlimited Paintball Refills
The Urban War Zone Sniper Package comes with unlimited paintball refills of our high quality / low impact paintballs. You read that right, free refills for as long as you'd like to play! Each Sniper Rifle (Azodin KP3) holds 50 rounds of paint and is extremely accurate. You can top off before each game so that you'll be sure to have plenty of ammo to take out your targets.
With each purchase you'll get access to all areas of the park, all of the equipment you need to play, and unlimited paintball refills.
Unlimited Paintball Refills
Unlimited Play Time
Low Impact
Non-Fog Thermal Mask
Chest Protector
The Urban War Zone Sniper Package is our premiere package for those who want to have the best equipment and maximum paintballs for the best price.

The Urban War Zone Sniper Package is perfect for any player that wants a light, agile paintball gun that's easy to carry. While not originally designed for younger kids, our younger players will really enjoy having a paintball gun that weighs significantly less than the standard rental. Reduced weight is a huge benefit and you'll find the light-weight aluminum frame reduces fatigue and increases accuracy.
Some players cover their lack of skill with a barrage of paintballs flying through the air. With the Sniper Package, equipment is no longer the issue. Your team's skill, aim, and ability to make high-pressure shots will determine who wins. The paintball industry produces guns that shoot 20 paintballs per second (which we also rent) and it's easy to mask a lack of skill with a paintball gun that shoots blindingly fast. If you really want to know who the best player is though, you have to remove equipment as a variable. Enter the Sniper Package. Every player gets the exact same gun, paintballs, and gear.

Not available to reserve
First come, first serve only
The Urban War Zone Sniper Package is available to everyone on a first-come, first-serve basis. Because the Sniper Package is new and includes the combination of unlimited time and unlimited paintball refills, we also expect it to be very popular. We can't guarantee it will be available to every single player who wants to try it and suggest you add your name to the waiting list when you arrive if you'd like to book the Sniper equipment for your group.