Several years ago we set out on our own journey to reduce impact and make paintball more fun for players. We started the process by testing the major paintballs brands sold on the market. What we discovered is that there wasn't a ball on the market that met all of our needs, a low impact ball with a bright fill that wasn't overly brittle and could be made on a consistent basis.
Once we had the ball that we wanted we had to find a way to make sure it was consistent. Paintballs are dramatically altered by temperature changes. They are less brittle when warm and more brittle when cold. They swell and become rubbery when exposed to humidity. To tame the temperature swings Houston experiences, we built a gigantic cool room to store our paintballs. This keeps them warm when it's cold, cool when it's hot, and away from the damaging Houston humidity.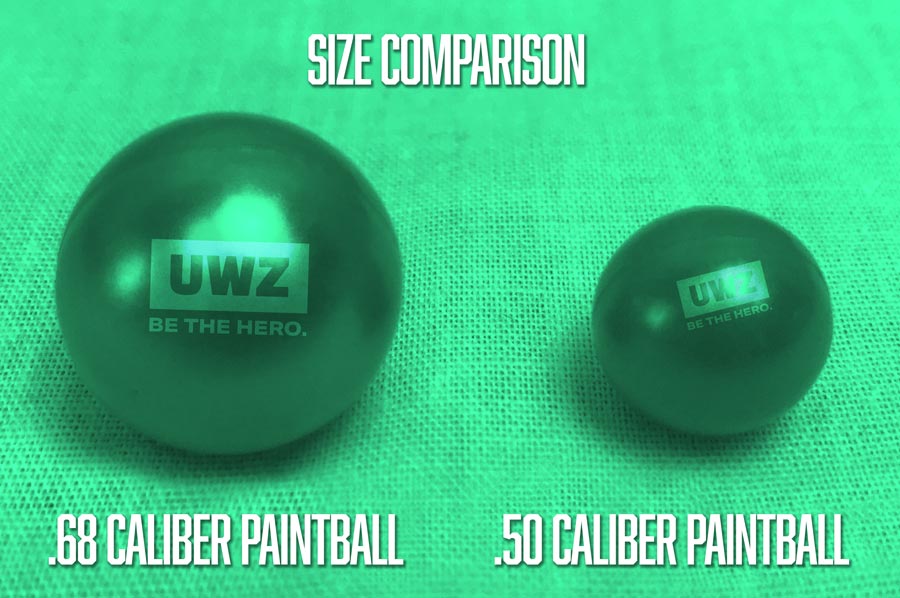 While there are couple of advantages to shooting a .68 caliber paintball, there are 2 major drawbacks that really suck the fun out of playing. First, .68 caliber paintballs shoot very fast. Second, they carry a lot more weight behind them.
The combination of high speed and increased weight of the .68 caliber paintballs delivers more force than a .50 caliber paintball and the result is a higher impact paintball.
Urban War Zone has achieved the best of both worlds by manufacturing a custom made .50 caliber paintball that is resistant to the swings of the weather while still delivering reduced impact. We routinely review our safety and impact standards to make sure that we are delivering the best product of any paintball park in Houston.